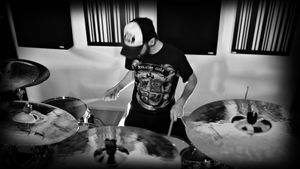 BIOGRAPHY
Michael 'Air' Hofmann (born June 29, 1990) is a professional drummer from Abensberg, Germany.

He first got in touch with drums through his friends from The Prosecution in 2003,
and right from the start took professional drum lessons from Stephan Ebn (Gianna Nannini, Middle Of The Road, Lynn Anderson).
By age 16 he had already made his own experiences as a drum teacher and
almost simultaneously started playing live and recording with numerous bands along with his brother Robert 'Hubi' Hofmann.
During those years he founded Radio Haze (9 LPs/EPs, touring with ZZ Top, Uriah Heep, Nazareth, Ten Years After, Graveyard),
and joined GumoManiacs (9 LPs/EPs, touring with Sepultura, Blaze Bayley, Leaves Eyes, Suicidal Angels, Anvil).

To complete his musical qualification he studied at Music College Regensburg from 2013-2016 (graduating in music education)
taking drum lessons from Gerwin Eisenhauer, Scotty Gottwald and Alex Holzwarth.
Since then he's working as drum teacher at different music schools,
and as professional drummer having played over 500 shows and on over 40 albums and TV/Cinema productions.

Working for VPBy from 2011-2013 he gained a lot of know-how and a huge network in the music business which led to the employment as
official representative for pop music in the district of Lower Bavaria in 2021, and furthermore as drummer, booker, and manager for many bands.

At Slash Zero Records he's responsible for drum engineering, promotion, publishing, and customer service.

Air Hofmann endorses: